Dear friends,
Once again the Chabad Center of Sharon will be producing its unique, annual Jewish Art Calendar. The calendar has received rave reviews and families have requested copies throughout the year. The calendar includes the secular as well as Jewish dates, along with beautiful thematic artwork and detailed information about upcoming holidays, educational messages, and Shabbat & Holiday candle lighting times. The date boxes are quite practical with ample room for recording family appointments.
You have the unique opportunity to personalize this calendar with your business ad or special personal dates of meaning printed in the calendar on the date of the occasion (i.e. Bar/Bat Mitzvah, weddings, student graduations, birthdays, Yahrtzeits and anniversaries). Potential customers will view the colorful and informative Jewish Art Calendar the whole year round, providing maximum return for your dollar. We will be printing 3000 copies of the calendar which will be displayed in homes and offices throughout the community thus insuring optimum visibility for your message, products or services.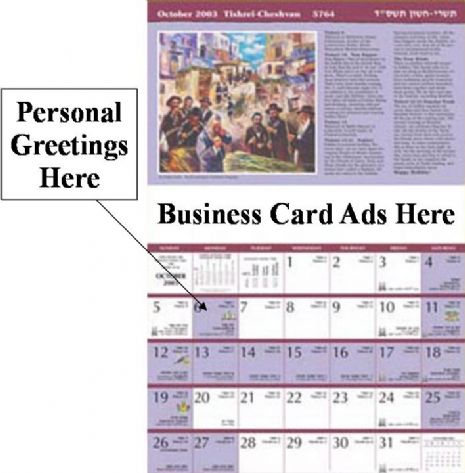 The Chabad Center of Sharon is known for its educational and outreach programs that are geared to Jews of all backgrounds regardless of their affiliation.
We offer 4 calendar entries for $100.
For $180 your ad will be placed on our website, www.TorahRecordings.com, for 90 days in addition to 4 calendar entries.
For $300 your business card will be displayed in the calendar. In addition, we will also post your business card on our website, www.TorahRecordings.com.
For more information on pricing and details please go to the Jewish Art Calendar. To register for advertisements, please click here.
Thank you so much.
Sincerely,
Rabbi Chaim Wolosow
Chabad of Sharon
This post has been contributed by a third party. The opinions, facts and any media content are presented solely by the author, and JewishBoston assumes no responsibility for them. Want to add your voice to the conversation? Publish your own post here.